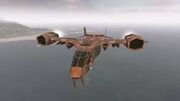 Excuse me, this is my page

No Title

Please Do not edit this page without Honorzealot's permision

This is my first page on this wiki so... HERE IT GOES!
COST: 5,000,000 CR
Armmaments: 6 PRIMARY, 9 SECONDARY, 2 TURRET SLOTS
ARMOR:800
HANDLING: 5,000 (Preinstalled Pulsed Plasma Thrust)
The L-B190 is a heavy assualt transport used by the Demons military force (will reference later in another page). Due to the preinstalled Yin Co. Shadow Ninja and Pulsed Plasma Thrust, this is an impressively deadly assualt ship. This was one of the very few ships able to go up aganst multiple Terran Battlecruisers and destroy them all.
Ad blocker interference detected!
Wikia is a free-to-use site that makes money from advertising. We have a modified experience for viewers using ad blockers

Wikia is not accessible if you've made further modifications. Remove the custom ad blocker rule(s) and the page will load as expected.