As the centuries went on and the Ceti war ended, the Terrans lived in peace... until a tyrannical leader named Borsond Gor led the Terran middle lower class into slavery. He made them live in slums while he relaxed and enjoyed himself in his huge palace.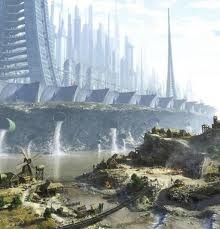 So as the years passed, a man named Thomas Maxwell (Keith T. Maxwell's great great grandfather) rallied the people to bring their old spaceship from the old Ceti war, and he destroyed Gor's palace so that the people got their ships and took to the air. Gor sent his largest cruiser to destroy them the people founght bravely. 3/4 of their ships were destroyed by the time the cruiser had taken heavy damage, so they retreated back to Earth to repair the ship. The people knew that when the cruiser came back it would destroy them so the ships sent a message to their old friends--the Greys.
To be continued...
Ad blocker interference detected!
Wikia is a free-to-use site that makes money from advertising. We have a modified experience for viewers using ad blockers

Wikia is not accessible if you've made further modifications. Remove the custom ad blocker rule(s) and the page will load as expected.